1.15pm
Lunch and Networking
After lunch, the conference splits into 2 streams that you can choose between:
New to HR stream: for those newer to HR to provide ideas on solving issues!
OR Advanced Stream:
for those who have been in HR for a few years, and are in more senior HRA roles.
3.30
Final action planning session and conference close at 3.40pm.
Solving your HR challenges
We've had different themes over the years but every year it's the discussions about how to overcome the challenges of being in an HR Advisory role that attendees say are the most useful. So for 2019 we're taking onboard feedback and having more think tanks and discussions about how to solve issues - so you leave with real solutions!
Book your ticket today: places for 2019 are limited
Super Early Bird (by COB 26 October) $795 + GST

Early Bird (by COB Mon 17 December) $995 + GST

Full priced $1195 + GST

Out of town ticket +$245 for hotel, breakfast & transfers
Register Today
Day 1: Thursday 14 February 2019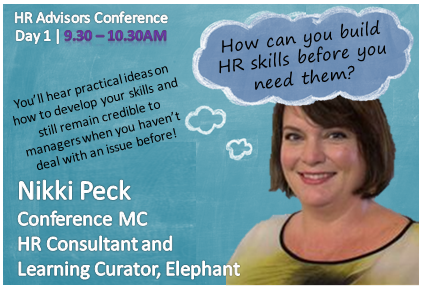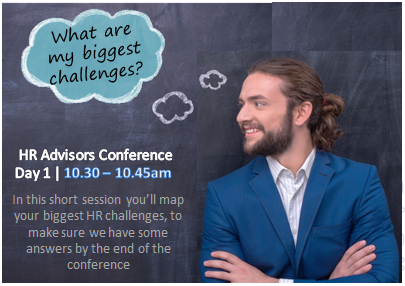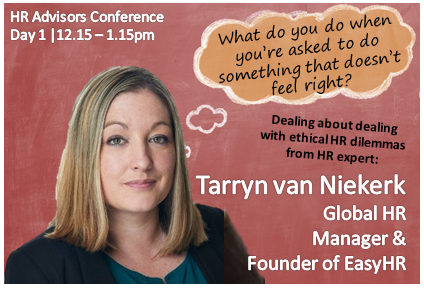 3.30 or
3.45
Afternoon tea
HR Technology Showcase
4pm - 5.15pm
In our last session of the day you'll hear from some innovative and practical HR technology solutions companies so you can see what is out there to help you deliver better HR and overcome challenges.
Day 2: Friday 15 February 2019
9.00
Day 2 of the conference starts

The speakers were fantastic and the information was presented in a way that made me feel confident about going away and using the tips and ideas I'd learnt.
What do people say about attending Elephant HR conferences?
I loved every minute of this conference! Usually when I hear the word conference I run a mile because I find that the language used and the atmosphere are far too corporate and it's hard to take in. This was the complete opposite! It was by far the best HR event I've been to.
It was really nice to get to meet other people from other organisations and hear the problems they face and also some of the things they have put in place. I will certainly advise other colleagues to attend the next one.
The conference was very well organised from the onset. The choice of presenters was excellent. This has been the most meaningful event that I have attended in my HR career - therefore I very much look forward to attending next year.
It was a great conference. Really thought provoking and plenty of time for group contributions too.
The HR Advisors conference explored a wide range of an HR Advisor role, from your own
personal development to attracting and retaining top talent in the market. Interesting topics
which aren't often found in an HR conferences. The conference showed you where HR is
now and where it is headed while providing you with top tips and tricks for how to help your
organisation keep on the fringe.
I loved the practical use aspects and the board range of topics and that it was all very forward thinking and useful to what we do in this field. I really liked the balance of personal professional topics/challenges and workplace topics/challenges. I will personally take stuff
away for my own development as well as stuff I can apply and change in my workplace.
Very helpful, had lots to report back to my team on. Would recommend attendance.
Ticket Details
Places for 2019 are limited.
Super Early Bird (by COB 26 October) $795 + GST

Early Bird (by COB Mon 17 December) $995 + GST

Full price $1295 + GST

Out of town ticket - add an extra $245 for hotel, breakfast & transfers
Venue: Auckland Rose Park Hotel in Parnell. There is free parking at the venue.
Terms and Conditions
The HR Advisors Conference is run by Elephant Group. Elephant Group reserves the right to amend the conference at any time if required. Once we've received your registration, we will send you a confirmation pack and invoice or payment link. By registering you agree to pay the invoice within 30 days.
If you are unable to attend and written notification is received by us 3 weeks in advance, you will receive a refund less a $100 cancellation fee. After that, no refunds will be issued. You can substitute your attendance with someone else up to 3 days before the conference. Photography may be taken during the conference in which you may be included. Please let us know if you do not consent to being in these photos.
Auckland | London | San Francisco
Win a copy of Kathryn's book!
During the conference we'll be drawing 5 copies of Kathryn's book that you can win.
If you're keen to buy a copyor find out more, it's now available for purchase through Routledge.
Register Today

Elephant News
Our newsletter is loved because we pack it with case law, quizzes & tips - but not too much.
Management Bites
Off the shelf workshops and videos based on the bestselling book. Buy & run yourself, or hire one of our team.