Programme Overview
The Certificate in HR Management is a 12 month programme focused on building your skills around core HR areas that apply when managing an HR function. It involves online modules, assignments and assessments.
Who should attend?
You'll benefit most from the Certificate in HR Management if you are:
 An experienced HR Advisor/Consultant wanting to prepare to move into an HR Manager role
 An HR Manager wanting a formal programme to build your skills and experience
 In a role where you are in charge of the HR function as one of your responsibilities
What will you finish with?
The Certificate in HR Management is different from tertiary study as you need to be working in a role where you can apply what you're learning, rather than covering theory. You'll work through online modules, with real case studies and assessments to test you are applying what we've covered. Once you've completed your final assessment you will be awarded your certificate.
Apply for a place
The programme investment is AUS$1,750 | NZ$1,950 | GBP£975 | US$1,200
Just complete the online application to enrol. We will liaise with you if we don't feel that your backgound meets the requirements for successful completion of the Certificate. You can choose which order you want to complete the modules.
The Certificate in
HR Management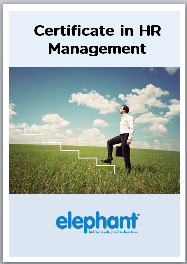 HR Management Competency Assessment
To start the Certificate you'll complete an individual assessment of where you think your skills and experience level are in the different areas covered by the programme.
This is completed at the start and the end of the programme so that you can check you have grown your skills, and also for your ongoing development plan after you have finished the Certificate.
Effective Performance Reviews
As an HR Manager you will often be in charge of designing and running the performance review system for your business.
You'll finish this module with:
An understanding of different models that can be used

Tools for dealing with the complexities of weightings, ratings, scores, linking to remuneration and structuring your goals

Knowing how to make your system effective
The on the job assignment involves reviewing an existing system and making changes.
The modules you'll complete
Running Wellness Programmes
Mental health and wellness are more important than ever before. In an HR Manager role you may be responsible for developing and delivering wellness. This module covers:
Identifying the key drivers for your wellness programme

How to develop and deliver a wellness strategy and measure the results

How to create engagement for the programme
The on the job assignment involves preparing a wellness strategy based on case study key drivers.
Developing and using Competencies
HR Managers can help their business use competencies in a variety of ways. This module covers:
Different approaches to using competencies in your business

How to develop competencies from scratch, or improve those in place already

Different ways to use competencies
The on the job assignment involves developing a new competency and advising a business on how to use competencies.
Development Planning
Development is a key motivator for many employees, and a way to deliver results to your business. As HR Manager you are often responsible for your development plans. This module will cover:
Different Development Planning models that you can use in your business

How to get employees to take responsbility and owndership of their development

Dealing with management and HR challenges including budgets, logistics and resources
The on the job assignment involves reviewing key issues in a business, and designing a development planning process for them.
Building your Company Culture
How you manage your HR function and the inititiaves and process will build your culture. You may also be responsible for mreasuring and building culture. This module covers:
Different ways you can define your company culture

Running engagement or staff surveys

Other tools you can use to measure culture (including ones that don't cost much!)

Change models you need to decide on up front to build a culture
Your on the job assignment involves planning and reviewing a culture initiative and strategy.
Dealing with bullying & toxicity
We are living in interesting times with the #MeToo and #TimesUp movements. As HR Manager you need to ensure that bullying and toxic behaviour are dealt with. This module covers:
Understanding definitions around what bullying and toxic behaviour is

Legal issues around investigating and managing bullying cases

How to take a proactive stance and build a culture of diversity and inclusion, where bullying and toxic behaviour aren't tolerated
The on the job assignment involves a real case study and your recommendations on how you would deal with the challenges raised.

Using HR Metrics and Analytics
Many managers and CEO's do not understand what an HR function can deliver, as there is a lack of HR metrics or analytics delivered to the business.
You'll finish this module with:
An understanding of the different levels of metrics and analytics

What you should be measuring

How to use this to build credibility and add value
The on the job assignment involves analysing key HR data and solving what the real issue is happening in the case study.
OPTIONAL MODULE
You also choose one of the following modules from the HR Business Partner Certificate to complete depending on the priorities of your role and skills you want to develop:
HR Strategy and Planning:

If your role also involves putting in place an HR plan for your business, this module covers how to implement this.

Leading Change:

if your organisation will be going through change, then this module takes you through how to lead this successfully.

Settlements and PG's:

if your role has an ER focus then this module covers how to deal with settlements (NZ only).

Auckland | London | San Francisco
Other Qualifications
Apply - NZ
Apply - UK
Apply - US
Apply - NZ
Apply - UK
Apply - USD
Apply - AUS
Apply - AUS