Refresh HR Webinar:
Development Plans
Our Refresh HR webinars are around 45 minutes and focus on practical examples and case law of how each topic works in real life.
Once you purchase we will send you through a link to the recording of the webinar and a copy of the slides.
Development Plans
If you are looking to introduce Development Planning into your organisation, or to review and change your development plan process if it isn't effective, then this webinar is for you!
The webinar covers:
Different Development Planning models that you can use in your business

Templates and layouts for development planning

How to get employees to take responsbility and owndership of their development

Dealing with management and HR challenges around your development strategy and process including budgets, logistics and resources
See all webinars
Elephant News
Our newsletter is loved because we pack it with case law, quizzes & tips - but not too much. To get a copy
each week click here.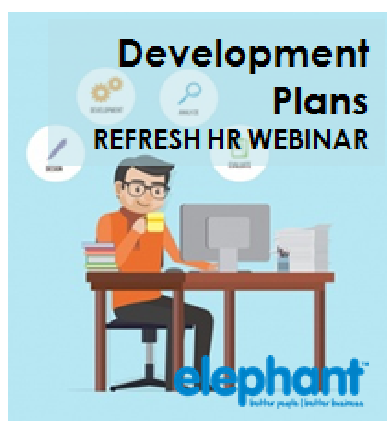 Purchase - NZ
Purchase - UK
Purchase - USD