Would you like a refresh on an area of HR you haven't dealt with before, or for a long while? Some new ideas that actually work? Practical solutions to overcome challenges?
If the answer is yes, then our Refresh HR webinars are for you! Around 45 minutes long, each webinar has practical examples of how each area works in real life. Once you purchase, we send you a link to watch on demand, and a copy of the slides to take notes.
Social Media 101 covers:
LinkedIn:

Using this for your own development and networking and as an HR tool

Facebook:

using this to communicate and engage with employees

Twitter:

should you or shouldn't you? How to get started.

YouTube:

company video channels.

Blogging:

the basics!

Social Media policies:

what to include and what not to do!
Super Recruitment covers:
What factors to consider when establishing a

recruitment strategy

In house vs outsourcing & negotiating PSA's

What

steps

should you include to make your recruitment process effective: technology, testing, interview questions and more.

Using social media and HR innovation to build and find talent

Coaching managers through recruitment issues
Talent Management covers:
What

factors

you should consider when looking at Talent Management
Case study 1:

A smaller company with a fairly informal approach

Case study 2:

Large corporate with thousands of employees & large talent programme

Case study 3:

Medium sized business with different business units
Writing Perfect Policies covers:
Making your policies engaging & adapt to different communication styles

When you should and shouldn't introduce a new policy (remembering the 1:100 rule)

Building your managers engagement and ownership of the policies so they're not just an HR thing

Use your policies effectively to address issues and more importantly build the culture that you want!
Clever Communication covers:
The steps to thinking through how you communicate an HR initiative or project

An easy to use model to understand the 4 main communication styles - both for yourself and your managers!

Different ways to adapt your written and verbal communications to the different styles

How to write effective information to appeal to all your team
Building a Brilliant Culture covers:
What is culture anyway? Different ways to define it.

Tools you can use to measure culture (including ones that don't cost much!)

Change models you need to decide on up front to build a culture

Some real case studies of culture change and what companies did from all levels to achieve the outcome planned.
Poor Performance covers:
Identifying the issue:

what factors must you take into account when looking at poor performance or misconduct

Steps to take:

a quick overview of the steps you must take when working through poor performance or misconduct

Case studies

: real cases – what happened? What did the employer do right? What could they have improved? What was the outcome? What learning's can we as HR take from this?
I'm Warning You covers:
Employment legislation that applies around good faith and dismissals

The steps you need to work through during a disciplinary process including letters to write, advice, meetings and outcomes

How to make an objective decision: what to consider from an HR, company and culture point of view

Case law: what employers did right and wrong in real situations
Being an HR Consultant is for people who are externally consulting and covers:
Remuneration & Reward covers:
Different models you can use for your remuneration model including job sizing, banding and families

Case studies of two companies and how they tackled some curly remuneration issues

Ideas on how you can reward and recognise employees including latest research on how to reinvent recognition to boost productivity!
Managing Medical Incapacity covers:
The things that the courts have said you need to consider if you are looking at Medical Incapacity

How to work through each step the process - what to consider, meetings to have, letters to write, discussions to have and actions to take.

Some real cases: what did employers get right and wrong.
Purchase - NZ
Designing a Performance Review System covers:
4 key performance review models and strategies to consider for your business

Dealing with the complexities of weightings, ratings, scores, linking to remuneration and structuring your goals

Real case studies and examples of different review systems

Game changing ideas for transforming your review process
Designing Competency Models covers:
Different approaches to using competencies in your business with real cases studies

How to use a repertory grid and critical incident process to build new competencies

How to develop descriptors and rating scales for competencies

Different ways to use competencies

How to coach and advise managers on competencies
Development Plans covers:
Different Development Planning models that you can use in your business

Templates and layouts for development planning

How to get employees to take responsbility and owndership of their development

Dealing with management and HR challenges around your development strategy and process including budgets, logistics and resources
Engaging your Managers covers:
Different methods to use to present and communicate your performance review system accross different groups and personalities

Innovative ideas to grab attention and get managers and employees excited about reviews

Metrics and analytics that show the value of reviews and show the what's in it for me with managers

Using FOMO to get people on board through social media and other channels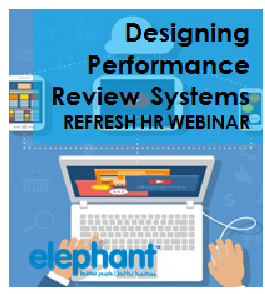 Wonderful Wellness Ideas covers:
Identifying the key drivers for your wellness programme and how to develop an effective strategy

Ideas and case studies of what to include in your wellness initiatives

How to create engagement from your managers and employees - so they take owernship and participate

Different ways to measure wellness impacts in your organisation and how to report these to your senior leadership team
Purchase - UK
Purchase - USD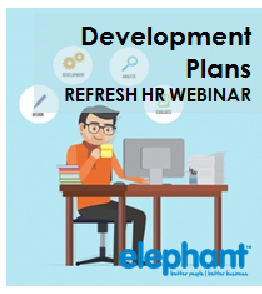 Purchase - NZ
Purchase - UK
Purchase - USD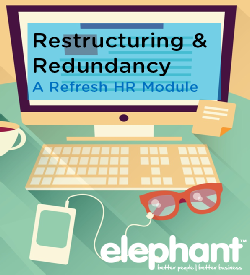 Restructuring covers:
The steps you need to work through when you're running a restructuring process

Employment & Case law

that applies to each step and what you need to consider

Tips and techniques for dealing with some of the challenges around restructuring including proposals, meetings, selection criteria and survivor syndrome
Innovative Induction & Orientation covers:
Essentials to cover in your pre-employment, first day, first week and first 90 days induction processes

Different ideas and case studies of how companies run induction for employees and managers

Orientation days or programmes: how they work and how to run them

Other HR processes and policies which link to induction and can provide ways for you to show value to your business
HR & Payroll Metrics and Analytics covers:
Understanding the different stages of metrics and analytics, where your organisation is at, and where you want to be

Base level HR and payroll metrics to use to measure effectiveness of delivery

Metrics to use to report to your business to show performance and issues

Moving to predictive analytics - how you can take your business on the journey with real case studies and examples
NZ only webinars
(due to employment law)

Auckland | London | San Francisco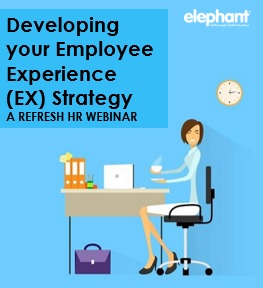 Developing your Employee Experience (EX) Strategy covers:
What is employee experience and how is it different to Human Resources?

What are the benefits of focusing on employee experience?

Different tools and techniques to use to develop your employee experience strategy including design thinking, journey mapping, Voice of the Employee and more.

A case study of a real company and how they have developed their approach, and what factors they have included