Restructuring
Case Law File
It can be time consuming keeping up with employment law cases.
Below you will find a range of different cases at your fingertips, of where employers got it right or wrong when working through a restructure.
These are great to use to show how important it is to treat people in good faith and follow a fair process. You can also use them in training sessions to discuss what a company should have done.
Whistle-blower redundancy
Botting v Strowan, ERA Christchurch Jan 2015
Karla Botting was working as a paint hand. She discovered that the business owner Simon Johannis had been deducting her student loan repayments but not paying them to IRD. She confronted him and was made redundant 5 days later.
During her 4 week notice period she was not allowed to take leave that had been agreed to and also had to pay penalties for not paying her student loan.
The ERA said that her whistleblowing was a factor in the redundancy and awarded her $10,000 for hurt & humiliation and $1,980 in lost wages.
Writing the proposal, consultation and selection criteria
Baguley v Coutts Car
Mr Baguley was a car groomer. The company contracted out some work and laid off two of the four car groomers. Mr Baguley was made redundant and took a PG that he'd been unjustifiable dismissed. The ERA ruled for Coutts Cars. When Mr Baguley appealed the Employment Court said there is a higher level of good faith needed and Coutts hadn't followed process. They awarded Mr Baguley $10,000 for hurt & humiliation and 3 months wages.
The Court of Appeal said Coutts Cars had made a commercial decision, followed a two step process and then interviewed and selected the two car groomers. They offered Mr Baguley redeployment but no role existed. They then offered assistance to find another job which Mr Baguley didn't take. But the Court of Appeal said Coutts Cars didn't provide enough information about the proposal, didn't consult properly and didn't tell him the selection criteria that would be used to select the two car groomers. They reduced compensation to $5,000 and quashed the 3 months wages.

Errors in redundancy payments
Beauchamp v NZ Defence Force, ERA Jan 2015
Michael Beauchamp worked for NZDF for 9 years before being made redundant in 2012. An updated IEA in 2008 said he was entitled to $116,400 & a pay increase.
He thought this was high and when he signed it, he mentioned the amount to the HR Advisor who joked that if her provision was similar she "would hope, nay seek, to be made redundant".
When he was made redundant, the NZDF said that there was an error in his 2008 IEA and the amount should have been $13,430. They ended up paying him $42,778 but Mr Beauchamp took the issue to the ERA. NZDF said that Mr Beauchamp acted in bad faith by not raising the issue at the time with a superior and only mentioning it to the HR Advisor. Mr Beauchamp said that he did think it was high, but not unreasonable as he was getting a $50,000 pay increase in the same IEA.
The ERA said the fact the HRA joked about it showed it wasn't an issue so Mr Beauchamp could rightly assume he didn't need to raise it further. He was awarded $70,000 extra in payments.
Seasonal Lay Offs or redundancy?
NZ Meat Workers Union v Silver Fern Farms - Feb 2015
NZMWU have won their case against Silver Fern Farms.
The company didn't have any lambs for processing in the working season from December to June last year, leaving 180 workers without work. In the hearing SFF argued the workers had not been made redundant and the ''seasonal layoff '' had just been extended.
ERA member Christine Hickey disagreed, saying if that interpretation was correct it would ''theoretically never be in a position in which it was required to make redundancy payments
for seasonal employees''.
SFF won't appeal and have paid what NZMWU think is around $3.3M in redundancy payments.
Changing hours or redundancy
Swanson v NZ Fire Service Commission, ERA Auckland Jan 2013
Mr Swanson was employed to train volunteer firefighters. His core hours were 40 hours per week, Monday to Friday, from 8am until 4.30pm, with half an hour for lunch. He often worked overtime to train volunteers in the evenings and at weekends - at time and a half.
NZ Fire Service wanted to spread the trainer's core hours over 7 days a week and include evenings as many volunteers worked during normal business hours. The collective agreement provided an employee's hours could only be changed with their agreement. The change would have meant a significant reduction in pay for Mr Swanson as there would be less overtime, so he refused the new hours. NZFS gave him the choice of the new role or redundancy compensation. Mr Swanson took a claim NZFS were not permitted to disestablish his role.
The Authority accepted the proposed changes to Swanson's hours would result in a fundamental change to his current role. Under the collective agreement, his hours could not be changed unless Swanson agreed. Employers cannot unilaterally vary an employment agreement by imposing new hours on an employee.
Turning to whether the employer could make Swanson redundant, the Authority noted that in GN Hale & Son Ltd v Wellington Caretakers IUOW [1991] 1 NZLR 151, the Court of Appeal held "An employer is entitled to make his business more efficient, as for example by automation, abandonment of unprofitable activities, reorganisation or other cost-saving steps ... A worker does not have a right to continued employment if the business can be run more efficiently without him".
In Hyndman and Ors v Northland Cooperative Dairy Company Ltd EMC Auckland AEC46/94, 3 August 1994, the judge held "simply because an employee has a contract of employment that cannot be unilaterally varied by an employer, that protection does not per se extend to a prohibition upon termination of that contract for reasons of redundancy so long as that action [is] justified".
The Authority determined NZFS was entitled to change the core hours worked by a trainer to ensure its operations ran more efficiently and cost-effectively. And following a fair procedure, could terminate on grounds of redundancy.
Doing the job already?
Wang v Hamilton Multicultural Services Trust, Emp Court, 2010
Mr Wang's existing position of Financial Administrator was to be replaced with the role of Financial Manager, which was more senior and with broader responsibilities (and a higher salary). Due to circumstances in workplace, Mr Wang was essentially carrying out the new role already. When the company announced they intended to make his current role redundany, they invited him to apply for the new role (which was being advertised externally). Mr Wang didn't apply incase it interfered with his PG about his current role.
The ERA found his dismissal justified, and it was fair for the employer to "test the market" with external applications. The Authority also followed the position set out in New Zealand Fasteners Stainless Ltd v Thwaites where the Court of Appeal held that, in the absence of a specific contractual right, there is no entitlement to redeployment.
On appeal, the Employment Court disagreed and found there to be no evidential basis for the conclusion that the job could not have simply been offered to Mr Wang, instead of inviting him to apply for it as part of a contestable process. In addition, by continuing to actively encourage Mr Wang to apply for the role implied that the employer thought him to be suitable for the role.
The features which led to this decision included:
The new responsibilities were within Mr Wang's capabilities and he had performed higher management functions in a relieving capacity

The employer accepted in the hearing that Mr Wang would be able to perform the new role with some training.

The Trust encouraged Mr Wang to apply for the new role, rather than just telling him of it - suggesting they thought him suitable.
Mr Wang was awarded six months' lost wages and $5,000 compensation for hurt and
humiliation. They didn't order reinstatement and indicated that the awards for lost earnings and hurt and humiliation were 50% of what would otherwise have been awarded, on the basis that Mr Wang's obstructive behaviour and his failure to apply for the new role contributed substantially to the termination of his employment for redundancy.

Moving Location
Brooker v State Insurance, 2000
Mr Brooker refused to accept an alternative position in Wellington following the restructure of the Lower Hutt office and then sought redundancy compensation. The refusal to relocate was made on the basis that the Wellington position was not within "reasonable commuting distance" from his home in Waikanae. Therefore, the question was whether the distance between Waikanae and Wellington constituted a reasonable commuting distance in comparison with a commute from Waikanae to Lower Hutt. The employer was willing to pay a lump sum of $1,500.00 to alleviate relocation costs (available to all employees taking up positions in the new location).
State Insurance argued that the drive to Wellington took longer and was more frustrating due to congestion. To alleviate this, they were prepared to be flexible with the employee's working hours. The employee also argued that he disliked travelling by train, that in Lower Hutt he was able to get free parking, and that he visited his mother on the way home. The Employment Court held that these three factors were not relevant and that the move was within "reasonable commuting distance", so the employee was not entitled to redundancy payments.
Consulting with the union
Auckland City Council v NZ PSA, 2003
Auckland City Council undertook a review of the Council's expenditure. The NZ Public Service Association Inc (PSA) notified the City Council that it wished to be consulted as part of the review but the Council said they would discuss and recommendations that arose. Once the review was completed, the Council consulted with affected staff but did not consult with the PSA as they believed that none of the affected staff were members of the PSA. However one employee was.
The Employment Court held that the City Council breached its obligation of good faith to the PSA by not consulting with the union. However, the Court of Appeal disagreed and held that the City Council did not need to consult with the PSA at an earlier stage as the PSA claimed. The Court of Appeal took a much broader approach and recognised that the City Council acted on an "honest belief" that no member of the PSA was affected and so didn't breach any obligation of good
faith owed to the PSA.

Get your numbers right
Brake v Grace Team Accounting, Emp Court, May 2013
Judith Brake was employed by Grace Team Accounting from October 2009 to April 2010. She had left a long-term job as a senior accountant at KPMG after being approached by Grace Team and sought and got assurances that her position would be permanent, even though she was replacing a staff member taking maternity leave, and there was no hint of restructuring at the time.
Six months later, 3 staff (including Ms Brake) were told the firm was in financial trouble and would have to make cuts. The same day she had a checkup at Auckland Hospital for her leukaemia and told her managers she was fit and well. The firm then made 2 roles redundant based on calculations that would later prove to inccurate. They used the "last on, first off" principle to also make Ms Brake's role redundant.
Judge Travis said he found Grace Team's behaviour was unjustified "because the procedure was so flawed and lacking in good faith it amounted to substantive unfairness". He found that Brake had good reason to believe her medical condition had kicked off her redundancy process as she was not given adequate reasons or knew other people were involved.
" ... the timing of the announcement of the redundancy proposal less than three hours after she had sought leave to attend Auckland Hospital was most unfortunate and added greatly to her distress."
However, he was satisfied her chronic illness was not a factor. "This was a genuine, but mistaken, dismissal." However she had suffered serious issues from the redundancy and Judge Travis awarded her 12 months' earnings and $20,000 for humiliation, loss of dignity and hurt feelings.
Cost Savings wrong & redeployment
Totara Hills Farm v Davidson, Emp Court April 2013
Mr Davison was a farm manager and his role was made redundant and a new smaller role (on less pay) of junior shepherd created, which the farm manager was told he could 'apply' for. This was to save the business 10%.
Totara provided very little evidence of the substantive justification of the claimed 'cost savings' for Mr Davidson's dismissal. Based on the evidence available, the Court did its own calculations and concluded that making Mr Davidson redundant would only result in a 6% reduction in expenditure. Because of this, the Court held that the genuineness, and therefore the justification, of the decision to make Mr Davidson's role redundant was unjustified.
The Court also held that the employer's actions were unjustified because the statutory good faith obligations encompass redeployment and the farm manager should have been 'offered' the new junior shepherd's position.
The Court stated that a "fair and reasonable employer would, at the least, have offered that alternative [role] to Mr Davidson ... whose skills and experience would have been more than adequate for it".
If you are concerned about making sure you follow procedures correctly and act in good faith, our restructuring pack includes:
Template letter to invite people to a restructuring meeting and letters for different outcomes to the meeting

Guidelines on having meetings and what to consider

Restructuring proposal template that you can customise

Restructuring outcome letters
Need some help restructuring?
Elephant News
Our newsletter is loved because we pack it with case law, quizzes & tips - but not too much.
To get a copy each month click here.
Postal Address:
PO Box 5723, Wellesley Street, Auckland 1141
Restructuring Document Pack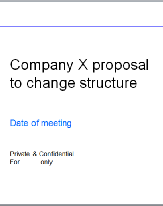 Purchase the pack
We also have HR document packs for disciplinary meetings and employment agreements.
Disciplinary Pack
IEA Pack
Restructuring Webinar
You may also be interested in:
Employment Bites