Understanding globally mobile employees is crucial to the success of so many NZ businesses. We need to be effective in not just recruiting offshore, but also retaining migrants and expats. HR and managers need to ensure the specific needs of this group are met so they can deliver on their talents.
At the New Zealand International Talent Forum 2019, four expert speakers will dive into the characteristics of this unique, yet diverse, group of employees, exposing research and impactful solutions on the following topics:
The

unique employee experience of the globally mobile

. Identifying the 'moments that matter' to improve outcomes for recruitment, retention and productivity.
Understanding NZ repatriate talent – how NZ businesses can better attract, engage and leverage the experience of

returning Kiwis

Building the cross-cultural space in multicultural teams so they can move from diversity to inclusion to high performance.
How employers can support

migrant wellbeing and mental health.
The NZ Intenational Talent Forum is brought to you by Mobile Relocation, in conjuction with Elephant Group. Mobile Relocation is incredibly fortunate to be able to collaborate with Dr Sonia Jaeger, global nomad and expat mental health specialist who will be in New Zealand from mid-Sept through to early November, including for Mental Health Awareness Week (23-29 Sept 2019).
Auckland:
Thursday 19 September
9.30am - 1.30pm
Discounts for multiple attendee bookings and public sector/Not for Profits.
Register Today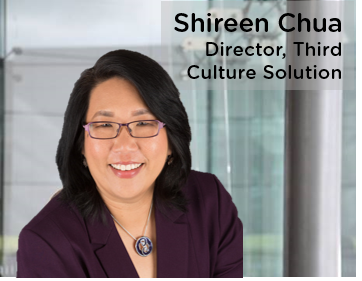 Shireen Chua is a Malaysian-Chinese Kiwi educated in New Zealand. Her personal experience of moving between the East and the West led her explore how globalisation is amplifying the cultural diversity in organisations, and how leaders and organisations can tap into the potential of diverse teams. After managing several multicultural teams. coaching professionals relocating to Asia and seeing the growing diversity in New Zealand, she set up Third Culture Solutions Ltd. Shireen and her team of associates provide learning journeys , coaching and services to help leaders and organisations develop their intercultural and cultural intelligence to benefit their organisations internally and externally.
Shireen is a certified Professional Coach, gaining her ACC with the International Coach Federation. She is certified as an Intercultural Intelligence Trainer/Coach (ICI), an advanced CQ Trainer (Cultural Intelligence Centre), and the Global DiSC. Her MBA from Southern Cross University, Australia included a research project focusing on Culture Matters: How NZ Organisations develop Intercultural Competency.
A serial expat herself, Tricia is a former academic turned HR Strategist, specialising in Talent Management, Leadership &OD.
She has spent over a decade working in Europe, the US and the UK in a mix of in-house and consultancy roles.
Since returning to NZ in 2017, she has turned her attention to understanding the experience of Kiwi repatriates and sharing these insights to help NZ businesses better engage with, and leverage the skills of this unique talent pool
In addition to her consultancy work, Tricia is the author of the How To Have a Happy Homecoming blog and a regular contributor to repatriate forums as both writer and speaker.
Bridget is a global moblity practitioner and strategist with degrees in Econmics and Political Science and a background as an expat, international trade negotiator, communicator and analyst.
Partnering with New Zealand and international businesses, Bridget and her team at Mobile provide specialist services to recruit, resettle, retain and develop the offshore and expat talent on which the New Zealand economy depends.
Ongoing learning and thought leadership key to Mobile's mission. Bridget presents on global mobility in New Zealand and internationally, and her work has been published by the The Employee Mobility Institute (TEMI) and in a new textbook on Talent Management in Small Advanced Economies (pub Nov 2019).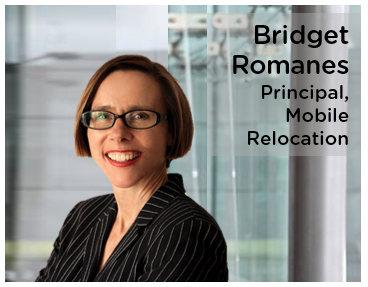 A German-French psychologist, psychotherapist and PhD, Dr. Sonia Jaeger has been living a location independent life as a digital nomad for the past four years while working as an online therapist, providing online counselling to expats and other globally mobile clients in German, French and English.


Growing up with two languages and cultures herself she experienced the challenges and advantages of cross-cultural life from an early age.


After finishing her PhD she decided to take a break and travel the world. However, instead of returning home afterwards she decided to open a private counselling practice online and has been travelling the world ever since. In 2018 alone she went to (and worked from) 12 different countries, from Australia, to Europe all the way to Latin America.


Dr Sonia also mentors other psychotherapists who want to work online and facilitates workshops that broach the issues of mental health while living globally.
Ticket details
Early Bird tickets are $295 and are available until Monday 26 August 2019.
Full price tickets are $395 and available to Monday 16 September.
10% saving if you book 3 or more attendees.
Terms and Conditions
The NZ International Talent Forum is being run by Elephant Group in conjunction with Mobile Relocation. Elephant Group reserves the right to amend the Forum details. Once we've received your registration and payment, we will send you a confirmation pack. No invoices can be issued for this conference.
If you are unable to attend and written notification is received by us 3 weeks in advance, you will receive a refund less a $100 cancellation fee. After that, no refunds will be issued. You can substitute your attendance with someone else up to 3 days before the conference. Photography may be taken during the conference in which you may be included. Please let us know if you do not consent to being in these photos.
Register Today
Date and time
The Forum is being held in Auckland on Thursday 19 September 2019 at SKYCITY.
The registration desk will open at 9am, with the forum beginning at 9.30am and finishing at 1.30pm.
A full morning tea will be provided.
Attendees will also recieve a slide pack following the conference.

Auckland | London | San Francisco
HR Professionals | Workforce Planners | Talent Managers | HR teams | Recruiters
Line Managers of internationally diverse teams | Business Owners